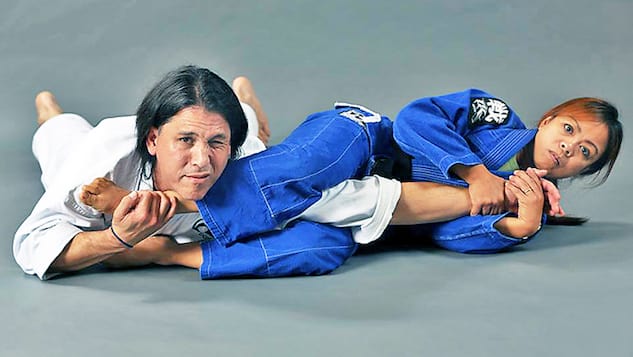 Professor Jocelyn Chang
Jocelyn Santos Chang is one of the first American women to receive a black belt in Brazilian Jiu-Jitsu.
She had her first taste of Brazilian Jiu-Jitsu on October 7, 1994 with the Gracie Jiu-Jitsu Academy. She was given a Rape Safe class as a birthday present from her fiancé then and now husband Glenn Chang. Initially, she wasn't too excited for the gift but many years later she admitted that this was the best present she could ever receive. Jocelyn found that this art was ideal for her smaller frame with the emphasis on the use of leverage and timing over strength. After the Rape Safe classes were over, she attended the Machado Jiu-Jitsu academy and began training seriously. She then trained under Professor Chris Heuter who awarded her a blue belt in 1996, then later Professor Leka Vieira who promoted her to a purple belt in 2003. In 2004 Leka Vieira opened up her own academy, which Jocelyn followed to support and continue training under her. Through hard work and tenacity she earned her brown belt later on the same year. In October 2005, Professor Leka, with the help of Professor Ronaldo "Jacare" Souza, awarded Jocelyn her black belt. Leka had recognized her hard work and dedication. After receiving her black belt, Jocelyn assisted Leka with teaching the kids and women's classes. This gave her much experience and has taught her patience.
In July 2009, Jocelyn took a medical leave of absence from teaching due to breast cancer. On September 15th, she underwent a double bi-lateral mastectomy. On the next day, because of her high fitness level, she begins to show strong signs of recovery. Her family, friends and doctors were amazed by her strength in handling chemotherapy and radiation treatments.
"My many years of training Brazilian Jiu-Jitsu has helped in my swift recovery from cancer and its' treatments both mentally and physically", says Jocelyn. Many years later, she has survived cancer and supports events for a cause to one day find a cure. Presently, she continues teaching and contributes her perseverance and tenacious spirit to healthy living, staying active, and her dedication to the practice of martial arts.
Request Information
Kids Martial Arts
Self Defense
Yoga